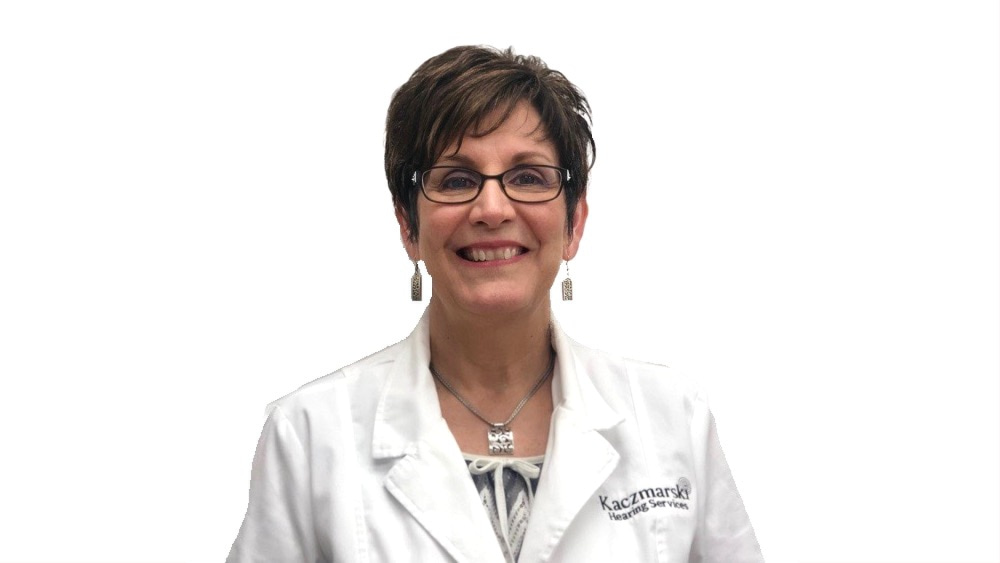 Gina Watkins M.A.
Audiologist
---
Gina works at our Raybrook location. We are privileged to have Gina on staff at Kaczmarski Hearing Services! Gina Watkins is a Michigan State University alumni and received her Master's degree in Audiology from Wayne State University. She has more than 25 years of experience in the diagnosis and treatment of hearing and vestibular challenges. Prior to working at Kaczmarski Hearing Services (KHS), Gina was the first audiologist hired by Spectrum Health (then Butterworth Hospital) to develop the region's first and only hospital-based Audiology Division. She is proud of the specialty programs she developed and launched including Universal Infant Hearing Screening (testing over 9000 newborns annually), a program that identifies congenital hearing loss, the pediatric/adult cochlear implant program offering hearing solutions to those with severe to profound hearing loss, and the Balance Center, a specialized program to diagnose, treat, and rehabilitate patients suffering from vertigo, dizziness and other balance disorders.
For a short time before working in the healthcare setting, Gina dispensed hearing aids. She says, "Technology back then was considerably inferior and limited. Hearing aids did the job of amplifying, and boy did they amplify… everything!" Patient follow-up appointments were focused on their strong dissatisfaction with hearing too much background noise, not being able to hear in church, not being able to listen to music or go to the theater. This was a constant challenge with very limited solutions. Fast forward to current date, hearing aid technology is exciting and changing exponentially. Patients are happier with their hearing aids, living a higher quality of life, and their input drives future advancements.
Gina is licensed by the State of Michigan and holds the Certificate of Clinical Competence in Audiology (CCC-A) through the American-Speech-Language and Hearing Association (ASHA).
Her interests outside of work include cooking, biking, and going to Michigan State football, hockey, and basketball games. Her bucket list includes going to every single BIG TEN venue to watch a Spartan football game with her husband Greg. Go Green!
Gina says, "I am ecstatic to be a part of this technological revolution, to be a working for such an exemplary hearing aid practice, and to be working with high quality and trustworthy professionals."
Meet Our

Team

Because like the saying goes, there is power in numbers! Kaczmarski Hearing Services employs the area's most elite team of Doctors of Audiology.