About Kaczmarski Hearing Services
Kaczmarski Hearing Services is owned and operated by Dr. Beckie Kaczmarski, a Certified Audiologist with her Master of Arts degree in Audiology from Central Michigan University, and her Clinical Doctor of Audiology degree from A.T. Still University.
Kaczmarski Hearing Services has fit thousands of people with hearing instruments in the Grand Rapids area, and has many clients from as far away as Florida and Arizona. Kaczmarski Hearing Services originated the 60 day trial period in the Grand Rapids area and continues to emphasize education over high pressure sales. Dr. Kaczmarski insists that a well fit hearing aid can change a person's life.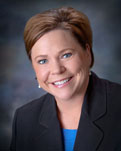 The success of the instrument for any wearer relies as much on the expertise of the person doing the testing and fitting as it does on the instrument itself. A hearing aid is only as good as the person who fits it. We are so confident in our ability to match the right hearing instrument to a particular hearing loss that we offer a 60 day trial period on all hearing aids that we sell, regardless of manufacturer or brand. If after 60 days you are not completely satisfied with your hearing instrument, return it for a refund, it's that simple. We want you to be completely satisfied.
Kaczmarski Hearing Services is a private audiology facility staffed by Doctors of Audiology serving the entire Grand Rapids area and beyond. We have a strong commitment to working closely with family doctors. Kaczmarski Hearing Services sells, services, and repairs almost every make of hearing aid on the market, specializing in difficult to fit hearing losses. We now offer a complete line of digital hearing aids for any lifestyle and budget. These modern digital hearing aids can be easily changed if your hearing loss changes. We also offer all sizes of hearing aids down to the CIC model which is virtually invisible, hidden in the shadow of the inside of your ear.