Our Audiologists
Beckie Kaczmarski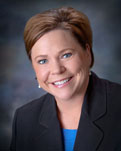 Beckie Kaczmarski received her Bachelors Degree in 1986 and her Masters Degree in 1988 from Central Michigan University. She is originally from Detroit and found herself in Grand Rapids after her initial education was complete. In August of 2006 she received her Clinical Doctor of Audiology Degree from A.T. Still University.
She worked in a local private practice for 6 years dealing with all populations, but was specializing in pediatrics. Through that time she witnessed an ever changing environment which inspired her to start her own private practice in May of 1994. She says, "I always welcome challenges and I thought this would be a perfect fit for me." Ten years of devotion to her practice has led her to fill a niche in the area. "I wanted to be known for education, ethics, and high standards in a friendly environment. My original motto was 'We treat you like family.'" She feels that this is the reason her practice has grown so much in such a short time. She feels she has learned so much from her patients. "They enrich my life everyday. I feel it is important to get to know my patients on a personal level in order to best serve their hearing needs. This approach helps my patients feel comfortable coming in no matter what the problem may be." Outside the office she enjoys spending time with her husband and her three boys.

Terry Alsum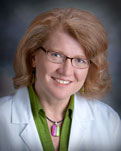 Terry Alsum, AuD, is board certified in Audiology. She is a Calvin College alum and received her Master's degree in Audiology from Michigan State University in 1985. She earned her clinical doctorate in Audiology from Central Michigan University in 2007.
Dr. Alsum has enjoyed broad clinical experience in a variety of settings. She has practiced at Spectrum Health and Michigan Medical PC. Her experience also includes teaching and clinical supervision of students at Calvin College. Other than hearing loss,
a specific area of interest has been balance function testing.
"I'm passionate about audiology and about helping individuals with hearing loss learn to make the best use of today's wonderful technology. My belief is that this is a process, not an event. The relationship between patient and audiologist is a very important factor in this process. Young professionals often need wireless connectivity to cell phones, stethoscopes or any number of electronic devices. They often have very unique work environments and sometimes fear that hearing aids will not be compatible with their work environment or lifestyle. But there are exciting new technologies available. One active patient recently remarked that I seem to really enjoy my patients and must have a very rewarding job. I couldn't agree more!"

Angela Barton
Angela Barton received her Bachelors Degree in 1990 and her Masters Degree in Audiology in 1991 from Michigan State University. She earned her doctorate in Audiology from A.T. Still University in March of 2012. She has made Grand Rapids her home, where she enjoys spending time with her husband and their three children.
Angela has worked in private audiology practices and with Ear, Nose and Throat physicians. She believes these experiences have given her an appreciation of the medical aspect of hearing loss and an understanding of the emotional toll that it can take on the individual as well as their family. Ironically, listening is essential to finding the right "fit" of hearing aids for an individual. Taking the time to get to know each patient and their lifestyle is as important as knowing the type of hearing loss they have. "As an audiologist, the measure of my success and the reward of a job well done is the positive feedback from patients and their families whose lives have been enriched because of better hearing."

Melissa Jordan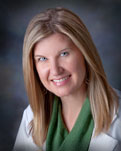 Melissa Jordan, Au.D, received her Bachelors and Masters Degrees from Michigan State University in 1994 and 1996, respectively.  After 10 successful years in practice, she enrolled at Salus University where she earned her Doctorate degree, which she completed in April 2009. She is a proud member of both the American Academy of Audiology and the American Speech Language and Hearing Association.
Dr. Jordan spent the first half of her career practicing Audiology and fitting hearing aids in Southern California working for a large hearing healthcare organization. There she spent a great deal of her time in a clinical setting evaluating hearing loss and fitting high technology  hearing aids on a wide variety of patients including adults, children and special needs populations.  She was excited to move back to Michigan in 2006, where she gained additional experience and knowledge while resuming her practice, working with local Ear, Nose and Throat specialists, focusing more on the medical aspects of Audiology.
Melissa says, the best part of practicing Audiology is seeing the change that takes place in a person's life once they have discovered what a huge difference hearing instruments can make for them (along with their loved ones).  Patients often come in for an appointment with a spouse or an adult child and have a fairly open discussion with Melissa about what it's like living with a lack of communication between them.  Getting to the root of the problem and presenting hearing and listening solutions is very gratifying.  Melissa claims that she is also known as being a "hand holder", during appointments.   Melissa likes to take her time and walk her patients through every step of this life changing process.   

Emily Brandner

Dr. Brandner is a West Michigan native. She grew up in Lowell and her family still lives there. She is coming here with her husband and her 2 daughters. They love to spend time fishing, hiking, and spending time with family.
She earned her bachelors degree at Central Michigan University and her Doctorate in Audiology at Western Michigan University.  She completed her externship at the Paparella Ear Head and Neck Institute in Minneapolis where she gained a great deal of experience working with patients with a variety of medical issues that effected their hearing and balance. She had the opportunity to help patients meet their hearing goals with hearing aids, and cochlear implants. After she completed her externship she continued practicing there for another year.
After this she took a position at St. John Providence Health System for 7 years, where she was able to provide a variety of audiological services for patients in the Detroit metro area.  She worked with patients from birth to 100 years old. When she would see the pediatric population she would work with the child, parent, and the school to develop an appropriate plan to help the patient be successful both at school and at home with his or her hearing goals. She would approach her adult patients in the same way to make sure that they were able to meet their hearing goals, even if that met consulting with their place of employment to make certain that the patient could be successful with his or her hearing at work.
In 2015 she was fortunate to become part of the Kaczmarski Hearing Services family.  She is excited to be able to serve her friends and family in the area. She makes it a point to treat all of her patients like family by giving them honest recommendations on how to meet their hearing goals. She looks forward to being able to serve the community where she grew up.
Robyn Strangways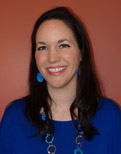 Robyn graduated with her Bachelors Degree in Speech Pathology and Audiology from Western Michigan University in 1998. Her emphasis was on early childhood development and she did her student teaching in a first grade classroom. She went on to get her Masters in Audiology from Western Michigan University and graduated with that in 2000.
She has been in the audiology field for the past 15 years working at an Ear, Nose, and Throat practice where she tested a wide age range of patients and helped to find hearing aid solutions when needed.
Her passion is diagnostic testing and finding the right solution and technology to fit each individual's hearing loss needs. She finds the field of audiology both challenging and rewarding. "One of the most enjoyable aspects of working in this field is the personal interaction I get with with people." "Being able to find a solution to help people hear and function better in their daily lives is very satisfying." "The advances in technology we see in this field are truly amazing and I love seeing my patients happy and hearing better."
Robyn also has a fun and busy home life with her husband, Dan, their two young children, Wyatt and Aurora, and multiple pets: one dog, two cats, and a bird. She also enjoys reading, traveling, biking, and trying to cook.