Jim Temple and Family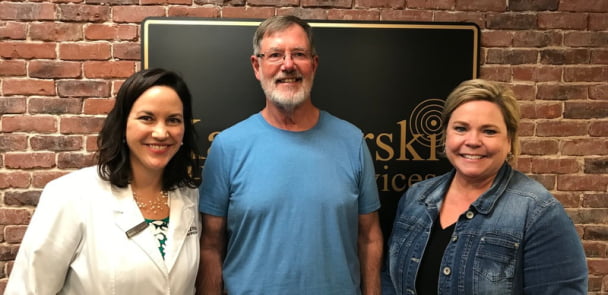 Over the past five years, I noticed a major decline with what I used to hear. I couldn't hear birds chirping or deer walking in the leaves. I was having a hard time understanding words and found myself often asking, "Could you please repeat that?"
In 2018 I had an insurance plan that would help cover a hearing test and hearing aids. Being new to area, I went online to find a hearing specialist and found Kaczmarski Hearing close by with very good reviews. I called to schedule an appointment with their audiologist, Robyn. After the hearing test, Robyn said she could help with my hearing trouble and fitted me with premium Starkey hearing aids.
Once she set them up, sounds came to life that I had been missing before. The hearing aids were great, but I told her I would think about them. Being disabled since 2013, I knew I would never be able to afford them on my disability income.
A week after leaving Kaczmarski Hearing, I went online and ordered what my insurance would pay for. For the past two years, I've had to listen to wind and other loud noises with my hearing aids. They helped some, but they also increased all other noises too much. If grandkids were over, I had to take them out.
In October 2019, I happened to see the Kaczmarski Hearing Facebook page and read many good comments. I decided to leave a comment that I was happy with their services, but I would never be able to afford a good pair of hearing aids.
I never expected to hear back after posting my comment.
I was shocked when I received a call from Robyn, the audiologist at the Walker location. She explained that the owner, Beckie Kaczmarski, had read my comment and wanted to help me with my hearing loss as a blessing for the holidays.
Even though I recognized Robyn's voice, it was hard to believe that the phone call was real. I was left with tears of joy.
On November 19, 2019, I met with Robyn and Beckie at Kaczmarski Hearing Services in Walker.
Dr. Kaczmarski shared with me her heart, both for her employees and those that they help with hearing problems. I could truly see her passion for helping others as I received my special gift that day. A hearing assessment was done and I was fitted with a pair of Starkey Muse 2400 hearing aids and received a bag of accessories to go with them.
Immediately I could tell the difference. I am now experiencing sounds that I haven't heard for years. My Starkey hearing aids have a LOOP feature that streams speech right to my hearing aids. I used it for my grandson's play and my church. This feature has really helped and I am hearing speech so much better!
On Dec 4th I had my two week follow up appointment with my audiologist, Robyn. She fine-tuned them and set them up for my specific hearing loss. She did a great job.
Before I left the office, I finished up with owner, Dr. Beckie Kaczmarski. She has blessed me more than my words can express. This has been a miracle for me and my family this holiday season.
From the bottom of my heart, thank you Beckie!
God Bless you and your staff this holiday!
Jim Temple and Family
Beckie and Jim Interview
Programing Hearing Aids
Changing a Hearing Aid Battery
Changing Programs & Receiver VS Tube
Follow up appointment
Hearing Loop & How it works
Jim's experience with his new hearing aids